Product Introduction:
Portable NPK soil tester is suitable for detecting the content of nitrogen, phosphorus and potassium in the soil, and judging the soil fertility by detecting the content of N, P and K in the soil. The stainless steel probe of soil NPK sensor can be buried in the soil for a long time, and it is resistant to long-term electrolytic and saline-alkali corrosion.
Soil measuring platform adopts the latest digital integrated circuit technology and the internationalization of detection technology design and become a new intelligent handheld detector, the large size full color LCD display, can display real-time readings and, at the same time, USES the international companies digital chip design detection circuit, can achieve very high sensitivity and good repeatability. The shell is made of industrial high strength composite plastic, with a good sense of strength. The shape of the sensor is hand-held design, convenient for users to carry, with good corrosion resistance, strength and toughness series characteristics.
*Model: JXBS – 3001
*Minimum order quantity: 1 piece
*Delivery date: within 24 hours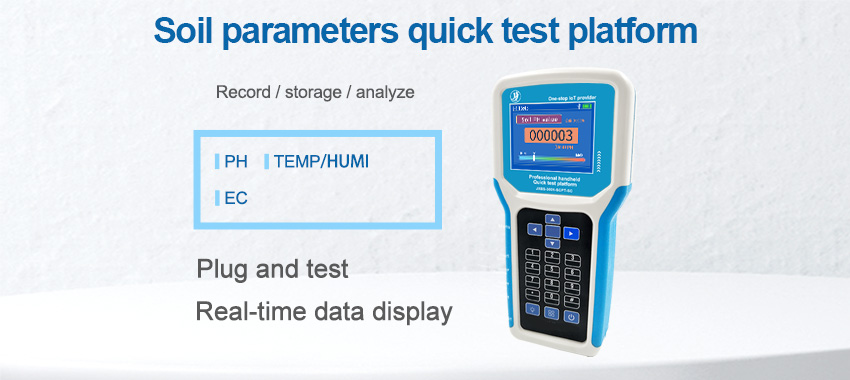 Features:
1. This soil recorder is very simple to use. Connect the soil sensor, insert the probe into the soil, the display screen can directly display the measurement results, simple and convenient, low measurement cost, fast measurement speed.
2. The design of soil analyzer is small and light, which can be easily put into the toolbox. Connected to our 7-in-1 soil sensor, it can simultaneously measure soil temperature, moisture, pH, conductivity, nitrogen, phosphorus, and potassium.
3, large size color display, easy to read. Mass storage can store up to 1,000,000 pieces of data at a time.
4, the measurement data can be exported to the computer through the USB interface, convenient for users to view and export historical data.
5, rechargeable soil analyzer with built-in lithium battery, standby time more than 8 hours.
6. English interface, one year warranty.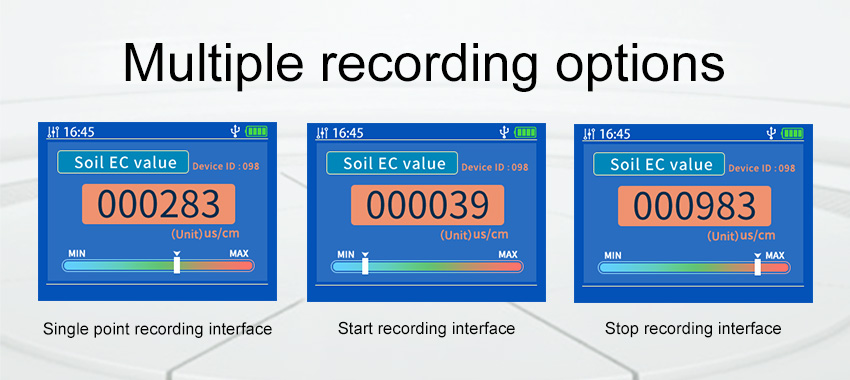 Product Parameters:
Determination parameters: nitrogen, phosphorus and potassium
Power supply: lithium battery
Display: Three rows 105*55cm
Storage: 200,000 sets
Size: 125 * 65 * 45 mm
Suitable place: Suitable for agricultural planting, pot planting, soil cultivation, soil analysis and so on
Power supply: 12V DC, 2500MA.h (standard)
Display mode: 2.8 inch liquid crystal display
Communication mode: USB (read, see DB9 interface description for details)
Data storage: 4MB storage (standard configuration)
Operating temperature: -20℃~50℃
Operating humidity: 0~90% (relative humidity), no condensation
Communication protocol: Modbus serial communication protocol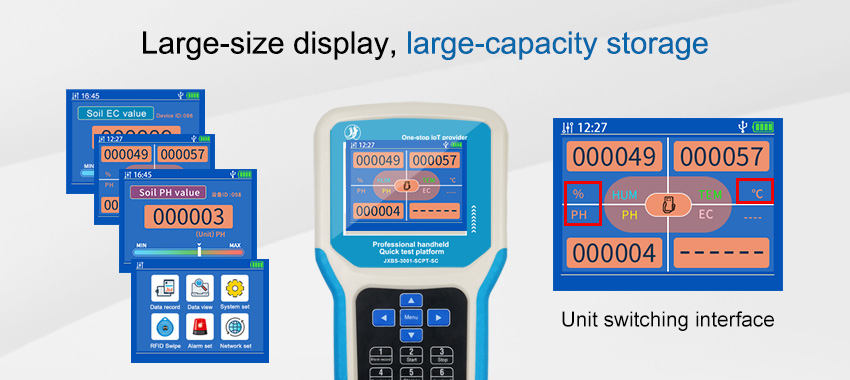 FAQs:
1. How does the soil NPK sensor work?
Soil N, P and K sensor is suitable for detecting the content of N, P and K in soil, and the soil fertility can be judged by detecting the conductance transformation caused by different concentrations of N, P and K in soil.
2. What is the output of the soil moisture sensor?
The probe is powered by 4.5~30V DC power supply, and the output signal is standard RS485modbus protocol.
The probe uses 10~30V DC power supply, the output signal can be 4-20MA, 0-5V, 0-10V.
The probe is powered by a DC 3.6V lithium battery with wireless output, such as LORA output.
3. How to read the TDR soil moisture sensor?
Our soil NPK sensor has two reading methods: 1. Soil sensor data logger, easy to carry and use. We have developed a soil moisture data logger that connects a soil NPK sensor to the soil data logger to display soil nutrients in real time. It also has data storage and data export capabilities. 2. Free cloud platform. For users with fixed measurement locations and multiple measurement points, they can upload their data to the free cloud platform provided by our company and view the data in real time on their computers and mobile phones. The sensor has an IP68 protection rating, so the entire sensor can be submerged in water.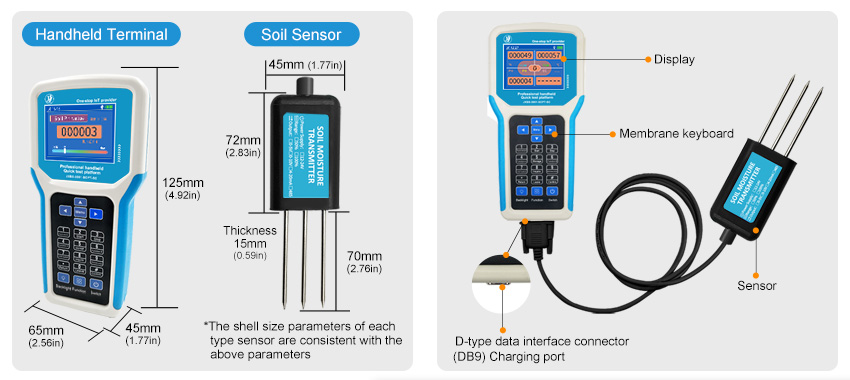 How to use Portable NPK soil tester:
1. Quick test method
To measure the position, avoid rocks and ensure that the steel needle does not touch hard objects. Discard the top soil at the required measurement depth, keeping the original tightness of the soil below, and insert the sensor vertically into the soil. Don't rock from side to side. It is recommended to measure the average multiple times in a small area of a measurement point.
2, buried measurement method
Dig a pit with a diameter >20cm vertically, insert the induction needle horizontally into the pit wall to a predetermined depth, and fill the pit tightly. After a period of stabilization, measurements and recordings can be made for days, months, or even longer.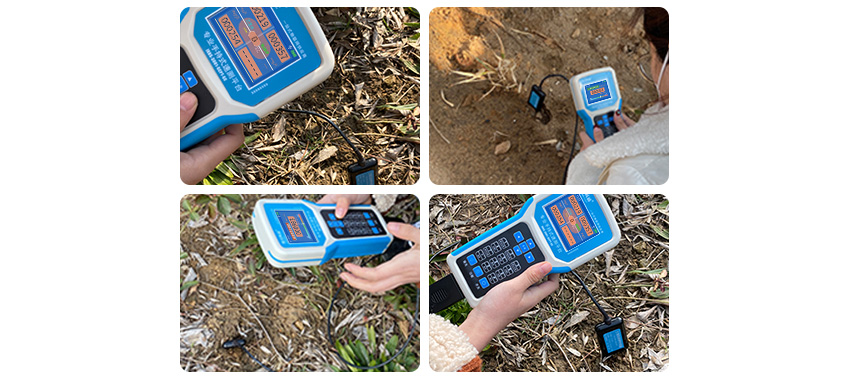 Attachment: