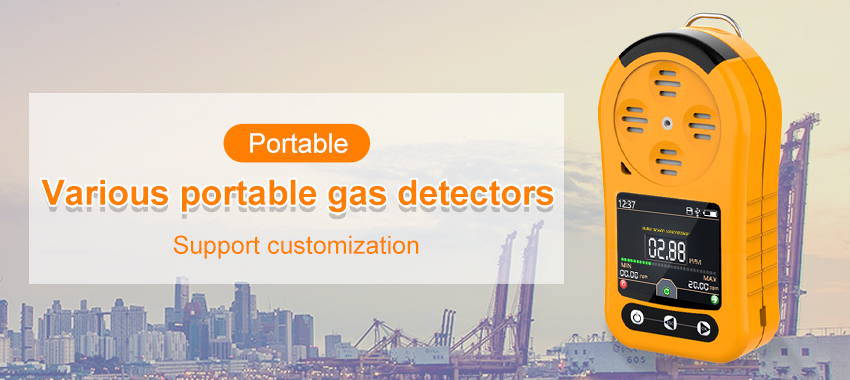 Product Introduction:
Portable NH3 Gas Leak Detector uses a large-size full-color LCD display to display readings in real time. As for the probe, it chooses probes from well-known brands in the industry. Relying on years of experience in gas transmitter research and development, it uses a mature, stable and long-life probe solution.Portable NH3 Gas Leak Detector uses natural diffusion to detect gas, using the detection circuit designed by international manufacturers' digital chips to achieve very high sensitivity and excellent repeatability. The shell is made of industrial-specific high-strength composite plastic, which has high strength and good hand feeling, and has the functions of waterproof, dustproof and explosion-proof.
* Models:JXBS-4001-GAS-NH3
* Minimum order quantity: 1 piece
* Delivery time: within 24 hour
Parameters:
Determination parameter: ammonia gas
Measuring range: 0-100ppm
Power supply: lithium battery
Color screen size: 125*65*45mm
Suitable places: chemical plant, petroleum exploitation, metallurgical industry, gas pipeline, mining
Display error: ≤±3%F.S
Time: T90<30 seconds
Linearity: ≤±2
Repeatability: ≤±2
Recovery time: ≤30 seconds
 Features:
1.It can detect 1-4 kinds of gases at the same time, and the manufacturer can customize the detected gas types according to customer needs.
2.It has a variety of units, including ppm, mg/m3, Vol%, LEL%, PPB and many other units to switch freely.
3.Rich man-machine interface, full-color interface designed based on the latest embedded ideas, can query, record and display gas data in real time.
4.Three gas concentration display methods, gas individual Digital + meter display, multi-gas collection display, optional real-time curve display.
5.Optional data storage function, support up to 100,000 data storage function, you can export data to the computer through Excel, and print, edit, icon display function, etc.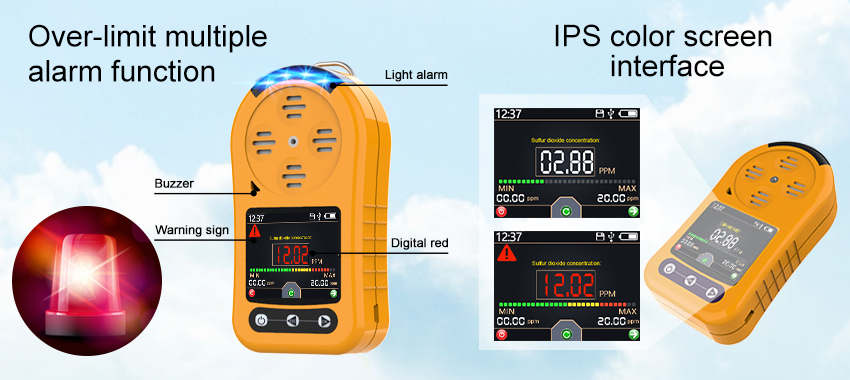 Attention:
Product alarm and fire alarm
When the product detects that the concentration exceeds the alarm limit, the instrument will trigger an alarm state. At this time, the buzzer will emit a "dididi" beep, the alarm light will also flash regularly, and the corresponding exceeding number on the screen will change from white to white. turns red and the alarm icon will appear.
In the alarm state, short press the "left page/cancel key" to eliminate the alarm and turn off the alarm state of the buzzer and alarm light, but the red numbers and alarm icons on the screen will not disappear. If there is another gas that triggers the alarm again in the alarm-off state, the buzzer and alarm light will still indicate the alarm until the alarm is lifted or the alarm is manually extinguished.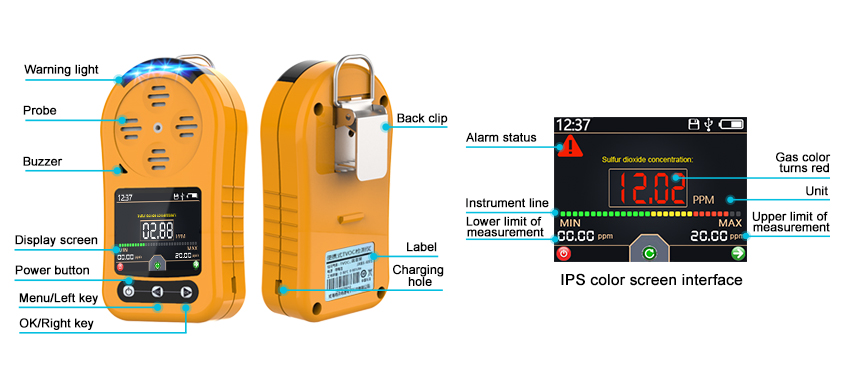 FAQs:
1. Data recording parameter setting (optional)
There are four items under the data record menu, which are "auto record switch", "record interval setting", "data usage" and "record data clear".
"Auto record switch": You can turn on or off the automatic record function. 0 is off, 1 is on.
"Record Interval Setting": You can set the recording time interval, and you can set a record at a minimum of 10 seconds and a record at a maximum of 900 seconds.
"Data usage": It can inform the customer how many pieces of data have been stored and how many pieces of data can be stored.
"Clear record data": data that can be stored in any situation, please note that the process of clearing is irreversible, so please operate with caution.
2. Concentration Calibration
The concentration calibration function is a relatively professional function, and non-professionals should not operate this item. For concentration calibration instructions, please refer to the separate instructions.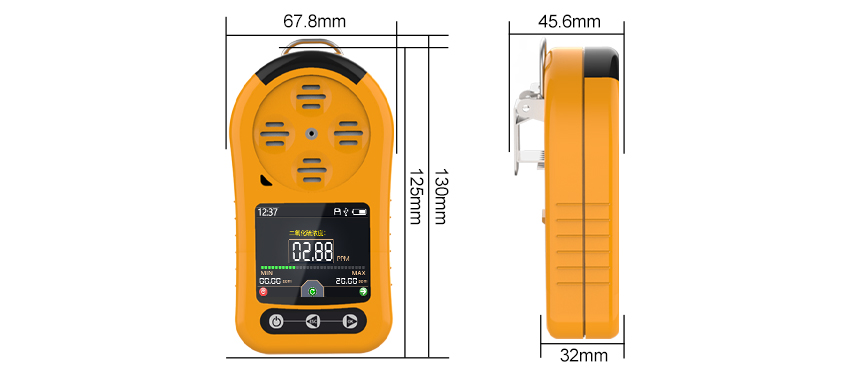 Attachment: