Product Introduction:
JX-3001-TR series Soil nutrient speedometer is a cost-effective soil component testing equipment developed by our company, which can detect soil nutrients, heavy metals and trace elements.
Products adopt advanced cold light source, digital circuit and programmed design, the use of high brightness LED light source, to ensure the stability of the wavelength of the light source; This package does not come with a printer to monitor conventional fertilizer nutrients
* Models:JX-3001-TR
* Minimum order quantity: 1 piece
* Delivery time: within 24 hours
Features:
1. Accurate detection: Developed according to national testing standards, it is widely applied to the detection of production and living wastewater.
2. Advantage of light source: Imported light source, excellent optical performance, life as long as 100,000 hours.
3. Intelligent operation: The device adopts guided operation, and the user can easily complete the detection operation according to the prompts.
4. Intelligent printing: You can set the concentration of automatic printing after detection, or choose manual printing mode.
5. Continuous measurement: A large number of samples can be detected, and the continuous detection mode can be opened, with higher detection efficiency.
6. High cost performance: equipped with perfect consumable reagents, low price, less consumption, economic benefits.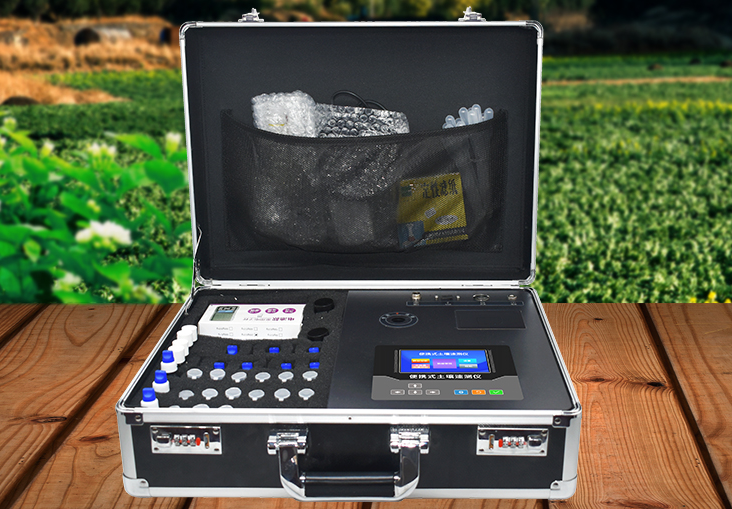 Parameters:
Power supply: 12V DC
Power: ≤10W
Repeatability error: less than 0.1%
Linear error: ≤0.2%
Sensitivity: Red 2.45×10-5 Blue ≥3.17×10-3 Green ≥2.35*10-3
Wavelength range: Red light: 680±2nm Blue light: 420±2nm Green light: 510±2nm orange light: 590±4nm
Display mode: 4.3-inch full-color LCD screen
Data storage: 0-999
Working environment: 0~60℃, ≤89%RH(no condensation)
Instrument size :475mm*355mm*155mm(length × width X height)
Instrument weight: about 6.1kg
Attention:
(1) After the detector is placed, press the power button and keep the detector preheated for one minute;
(2) Before the analysis, please pretreat the water sample;
(3) The purpose of blank control is to reduce the measurement error;
(4) Before measurement, please dry the wall of the test tube, and then put the tube to be tested into the colorimetric pool for testing;
(5) During the measurement, please keep the protective cover of the colorimetric tank closed;
(6) Prevent long-term exposure to debris in the air from affecting the results;
(7) If there is any wrong operation, please power off in time.
(8) In case of any other situation, please contact our after-sales service. It is strictly prohibited to disassemble the analyzer without permission.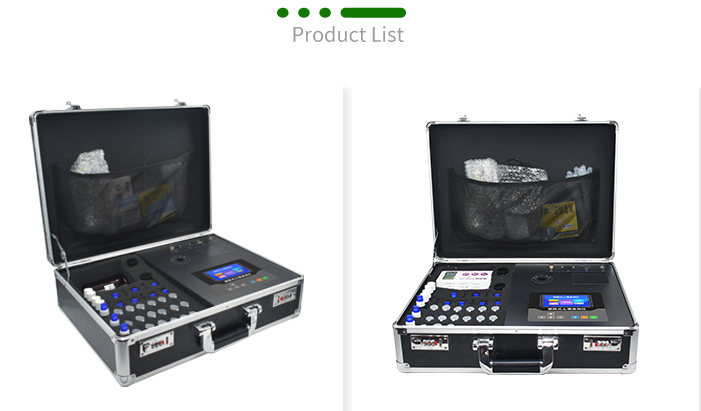 FAQs:
1. The role of soil nutrient speedometer?
The rapid measurement instrument of soil fertilizer nutrient was born successfully. It adopts the spectrophotometric detection technology, which has high detection accuracy and fast speed. It is an ideal soil measuring instrument. JX-3001-TR soil nutrient detector, testing items in line with national standards. Not only that, JX-3001-TR soil nutrient detector also supports the detection of fertilizer nutrient, plant nutrient, water quality, etc., is a highly intelligent comprehensive testing instrument.
2. The application of soil nutrient speedometer?
Portable soil moisture velocimeter has the advantages of low power consumption, easy to carry and high cost performance. It can directly read the volume water content of soil. The instrument can realize a long time continuous monitoring of soil water changes, timely find the abnormal changes in soil water, easy to take effective measures to ensure the healthy growth of crops. The instrument is widely used in agricultural production management, forestry, geological exploration, plant cultivation and other fields.