What are weather stations?
Multi parameter weather station is a professional industrial and agricultural weather station. It consists of multiple sensor devices, which can effectively monitor the wind speed, wind direction, rainfall, UV, solar radiation, air pressure, temperature and humidity, noise, light, soil moisture conductivity, etc. in the environment. We also have integrated weather station, and so on.
Weather stations composition
Multi-parameter weather station is a high-precision outdoor environmental weather station. Mainly used for industrial and agricultural meteorological environment monitoring. Its support structure is composed of a high-strength pole and three beams through expansion screws, which can effectively resist strong winds and snowstorms. Various weather sensors are installed on the top of the beam, which can accurately measure the current environment's temperature and humidity, wind speed, wind direction, rainfall, solar radiation, illumination, atmospheric pressure, rain&snow, soil moisture, and noise.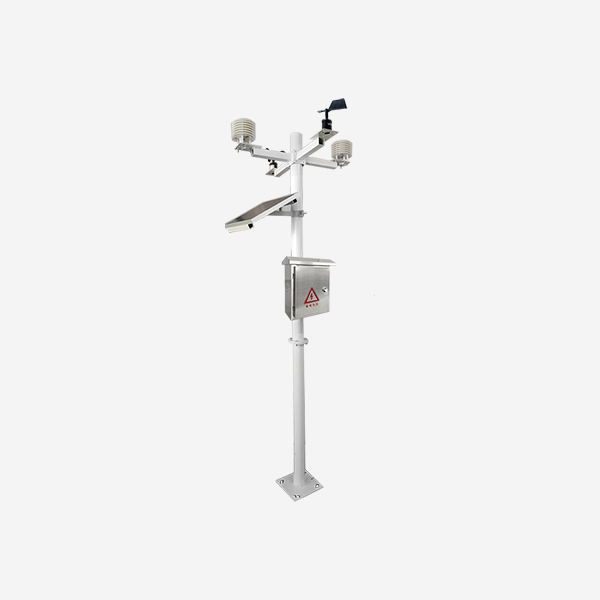 weather stations how to work?
A solar panel or LED display can be optionally installed at a distance of 20 cm below the beam to form a closed-circuit power supply system or display current measurement data in real-time. This part can be flexibly selected according to your needs. Further down 5 cm is the waterproof box, which is equipped with an environmental monitoring host, which inquires the value of the sensors every 2s, and through the rj45 network uploads the data to our free cloud platform. Customers can view the data via APP or PC remotely. Our cloud platform has an over-limit alarm function, which can send you alarm information in time via SMS or email.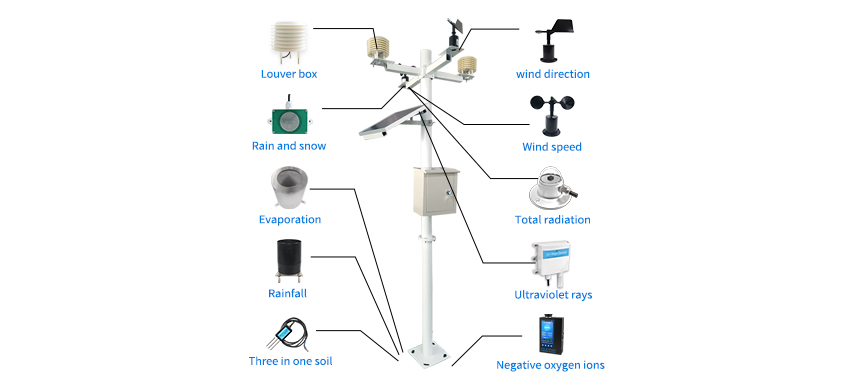 How to choose a weather station?
The choice of weather station must first consider the place of use. If you want to monitor the weather in a remote environment, it is recommended that you choose an ethernet outdoor weather station. Use high-strength poles to fix various sensor elements, and use solar panels to supply power, and wifi signals to upload data.
If you want to monitor the weather in the courtyard or farm, you can supply power from the mains and upload data through wifi or RS485 connection. If you don't like the cumbersome installation process, you can choose our portable weather station or ultrasonic weather station. They are an integrated structure, which avoids the trouble of installing sensor elements.
Where are the professional weather stations used?
Weather stations application in reservoirs, farmland, pastures, campuses, highways, and construction sites to measure rainfall, soil moisture, light, temperature and humidity, rain and snow, particle concentration, and other meteorological elements. You can view the latest and most accurate data in real-time.
Why choose our weather stations?
Professional brand: JXCT has many years of experience in weather stations manufacturing and is the Chinese top one manufacturer of environmental monitoring equipment. With a professional R&D and technical team, the product variety is rich, and it supports customer customization.
More types: Provide a variety of agricultural or industrial weather stations, weather station sensors with various output methods. You can freely match sensors according to your needs. Wide measurement range.
Cheap price: We have a complete production scale and controllable cost. The price range of weather stations for you is $295.3~$1299, and the price of the same type of weather station is much lower than the average market price. It can save you at least 40% of your budget.
Fast delivery: We have sufficient stock and can guarantee delivery within 24 hours after payment. Welcome to inquire.