Soil humidity sensor play a crucial role in measuring and monitoring moisture levels in the soil, providing valuable information for irrigation management and sustainable farming practices. This article explores the importance of soil humidity sensors, their working principles, benefits, and applications in modern agriculture.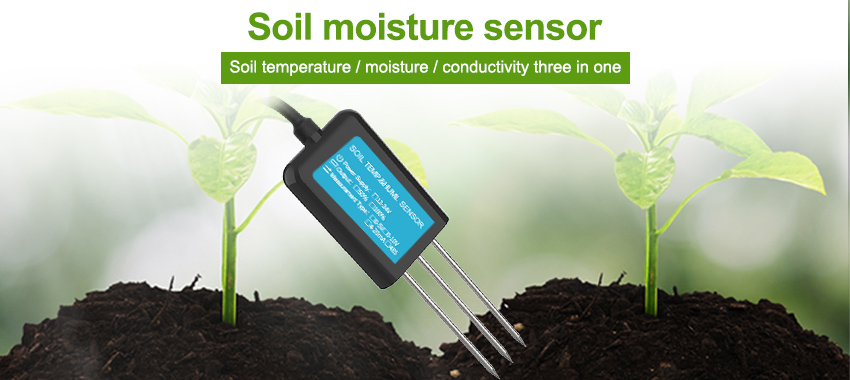 Working Principle
A soil humidity sensor measures the moisture content in the soil by utilizing various technologies and sensing principles. The most common types of soil moisture sensors are capacitive and tension sensors.
Capacitance-based sensors work by measuring changes in soil dielectric constant, which is directly related to the soil moisture content. These sensors consist of two electrodes that create an electric field in the soil. As soil moisture increases, the dielectric constant changes, resulting in a corresponding change in the electrical capacitance between the electrodes. By measuring this capacitance, the sensor can determine the moisture level in the soil.
Tensiometric sensors, also known as water potential sensors, measure the soil moisture tension or matric potential. These sensors use a porous material, such as ceramic or gypsum, to extract water from the surrounding soil. We then measure the tension required to extract water, providing soil moisture levels. We often use tension sensors in precision agriculture, which requires accurate measurement of soil moisture tension.
Benefits and Applications
Soil humidity sensors offer several benefits in agriculture, enabling more efficient water management, increased crop yields, and reduced environmental impact. Firstly, these sensors provide accurate and real-time measurements of soil moisture, allowing farmers to optimize irrigation practices. By knowing the actual moisture level in the root zone, farmers can avoid under- or over-watering, reducing water wastage and optimizing crop water use efficiency. This not only conserves water resources but also helps to minimize energy consumption associated with irrigation.
Secondly, soil humidity sensors aid in preventing crop stress and improving plant health. By monitoring soil moisture levels, farmers can ensure that plants receive the optimal amount of water needed for growth and development. This helps prevent water stress or waterlogging, which can result in stunted growth, decreased yields, and increased susceptibility to diseases. By maintaining an ideal soil moisture range, crops are better equipped to withstand adverse weather conditions and achieve their maximum potential.
Moreover, soil humidity sensors contribute to sustainable agriculture by promoting resource efficiency and reducing environmental impact. By precisely measuring soil moisture, farmers can apply water and fertilizers in a targeted manner, avoiding unnecessary runoff or leaching. This reduces the risk of nutrient pollution in water bodies and minimizes the need for chemical inputs, leading to improved water quality and soil health. Additionally, efficient water management facilitated by soil humidity sensors helps to conserve energy and reduce greenhouse gas emissions associated with pumping and distributing water.
Soil humidity sensors find applications in various agricultural practices and systems. In conventional farming, these sensors assist in determining irrigation schedules, preventing water stress, and ensuring optimal plant nutrition. In precision agriculture and smart agriculture, soil moisture sensors combine data from multiple sensors in advanced monitoring systems. To provide a comprehensive understanding of crop conditions. This enables farmers to make data-driven decisions and implement precision irrigation strategies for different crop zones or microclimates.
Conclusion
Soil moisture sensors are an indispensable tool in modern agriculture, providing valuable information on crop productivity and sustainable agricultural practices. By accurately measuring soil moisture levels, these sensors help farmers optimize irrigation, prevent crop stress, and conserve water resources. They contribute to resource efficiency, reduce environmental impact, and promote soil and water conservation. Soil moisture sensors have different applications in different agricultural systems and play an important role in ensuring sustainable agricultural practices.